Conventional street design dominates large expanses of our urban landscapes, providing corridors for vehicle movement and above- and below-ground space for utilities. Green Street design, an updated practice of urban street design, takes a complete view of the street, seeing stormwater as a resource, universal mobility as a priority, and local plants as co-engineers of a complex built environment. It reimagines a singular street design that efficiently prioritizes multiple uses and recognizes the unique value of shared spaces.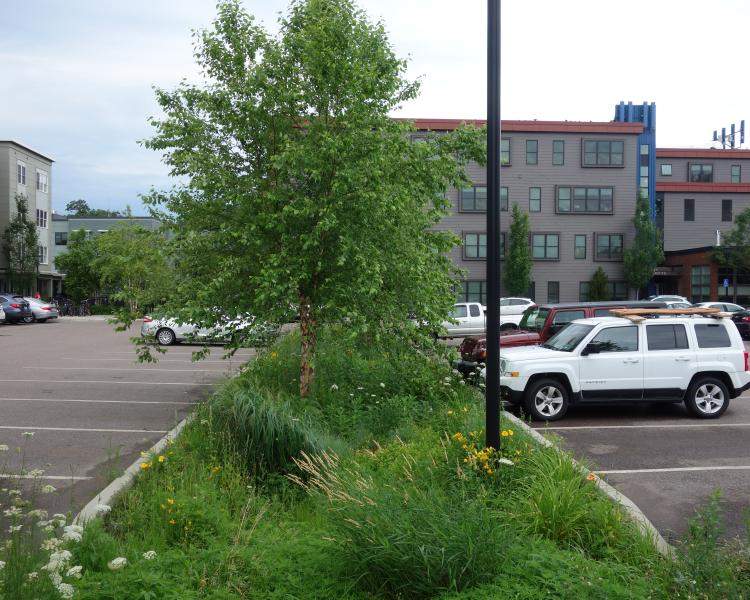 Green Streets Guide
This guide includes:
Planning considerations to advance Green Street design along streets and in parking lots.
Guidelines for selecting the appropriate application for the right site.
Implementation and maintenance strategies that make Green Street design more achievable.
Examples of Green Streets throughout the state, highlighting their successes and challenges.
This guide is intended as a springboard for action; as such, it can be read in its entirety or in sections as needed. It describes a linear process of Green Street design and build, from envisioning, planning, and design to maintenance and ongoing monitoring.
Download or Watch the Guide by Section
To request a hard copy of the Green Streets Guide, contact Elise Schadler, VT UCF Program Manager, at Elise.Schadler@vermont.gov.
Section 1: Introduction to the Vermont Green Streets Guide
Section 2: The Benefits of Green Streets
Section 3: Planning for Green Streets and Parking Lots
Section 4: Green Street Design Principles
Section 5: Design Considerations - Physical & Environmental
Section 6: Green Stormwater Management Tools
Section 7: Green Street and Green Parking Lots Examples
Section 8: Plant Selection Considerations
Section 9: Implementing Green Streets
Section 10: Maintaining Green Streets
Section 11: Case Studies
We are grateful to the funders who made this project possible, notably the State of Vermont Clean Water Initiative, the USDA Forest Service, and the Lake Champlain Basin Program.