Arbor Day is a day to plant, nurture and appreciate trees and the difference they make in our lives. To help us spread the word about Arbor Day, we are inviting students (Grades K-8) to celebrate by creating tree art and companion stories.
For more information on this program, contact Gwen Kozlowski at gwen.kozlowski@uvm.edu. All contest entries must be received by March 8, 2024.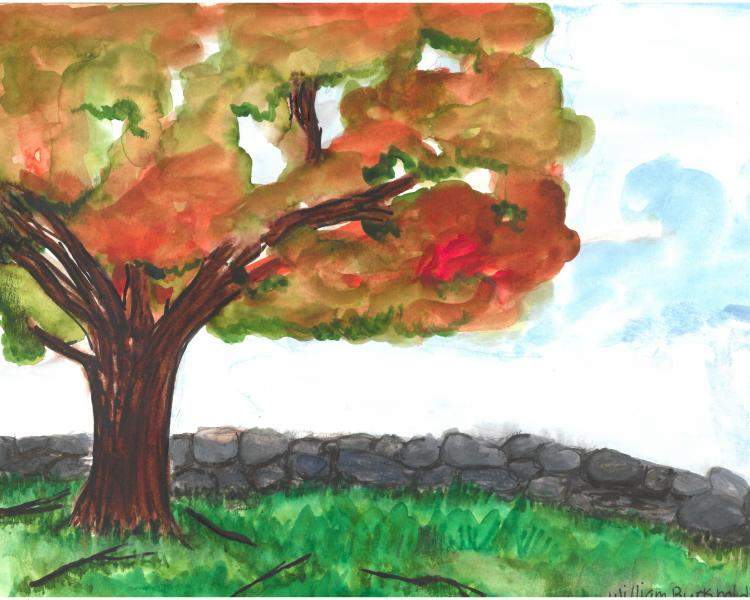 2024 Contest Theme
ABCs of Trees
Students must choose a letter of the alphabet and identify a tree-themed word. Examples include:
Benefit of trees: "B" for beauty, "O" for oxygen; "S" for shade;
Type of tree: "A" for apple, "M" for maple; "B" for birch;
Part of a tree: "B" for bud, "L" for leaf; "R" for root;
Any other tree-themed idea!
Contest Prizes
One winner will be selected from each age group, grades K-8. Each winner will receive:
A Vermont State Parks season punch pass ($30 value).
Be featured on WCAX's "Across the Fence" television show!
Artwork and stories featured online.
Submission Guidelines
Entries must be received by

March 8, 2024.
Students currently enrolled in grades K-8 in Vermont are eligible to enter. One winner will be selected from each grade.
Only one entry per student allowed.
Entries must include the artwork and the written portion.
A completed entry form must accompany the submission.
Art must be original and no larger than 11 x 17 inches.
Art works can be created in pen, pencil, crayon, pastels, paint, cloth, collage, photography or computer art.
Entries must be titled with the letter, chosen tree-themed word, and signed by the student in the lower right-hand corner.
Teachers and club or organizational leaders may submit entries in groups as long as each individual submission has the completed entry form.
Entries can be submitted electronically (scan or link to folder).
Any individual is allowed to win only one time.
Judging Criteria
Entries will be judged on 50% creativity and originality, and 50% successful communication about their tree-themed word and companion story or written description (suggested 1-3 paragraphs in length).
Written portion: Students must use selected tree-themed word to either further describe how that word is connected to trees or by using it in a story about their connection to trees.

Example: If "Maple" is the selected word, students can write about the process of maple syrup production, a story about how their family creates maple syrup, or why maple is their favorite tree species.
Example: If "Bud" is the selected word, students can write about the bud's part in the tree,life cycle, or share a story of how they watch tree buds burst in spring.
Contest Entry Form
Entries can be submitted by mail or email. Entries must be received by March 8, 2024. Send completed entry form, written component, and artwork to:
Mail entries: Gwen Kozlowski; 140 Kennedy Drive; Suite 201; South Burlington, VT 05403
Email entries (link to a folder or scanned document): vtcommunityforestry@gmail.com
Entry Form (PDF)Entry Form (Fillable PDF)
2023 Contest Winners
K: Maeve Archer

White Pine Tree

My tree was fun and I love to climb on it. It was a split tree. It has two trunks.
First Grade: Sage Williams

My Parents' Wedding Tree

The wedding tree is an apple tree. I like to pick apples from it. My parents got married under the apple tree, so it is very special!
Second Grade: Jack Jarvis

Go Outside

Generations of my family are outside people.

I am an outside kid.

I can even make my own fishing poles!

My family is outside ALL the time.

My favorite things are baseball, walks in the woods with my dad and hunting.

When you are feeling bad, you should go to nature.

Nature looks like deer in the fields. The little ones hop and play. Deer bucking a tree sounds like scrubbing and hitting. Their horns get so heavy that they cant handle the weight on their heads so they must pop off some weight.

Trees are blowing.

Leaves are falling.

The woods make me feel good. Life is hard sometimes.

You fight with a friend and it makes you feel bad.

When life gets hard, GO OUTSIDE. It heals me.
Third Grade: Jasper Lawrence

Wolf Tree

In my backyard there is a wolf tree. A wolf tree has survived fires, floods, lightning, droughts, and wind. When I'm near the wolf tree, it makes me like I can survive it too.
Fourth Grade: Gwendolyn Firlik

My Tree Years

I stand all year round. My leaves come and go.

In spring, my buds blossom into my leaves.

In summer, I give shade to the people in hot weather.

In fall, my green leaves turn red, yellow, gold, and orange, then they fade into brown and fall off.

In winter, I stand in the cold for months. I'm naked and bare but I still stand high.

All year round, I get hurt and my branches are blown around, but I'm still strong.
Fifth Grade: Sadie Murnaghan

The Alone Tree

When the sun doesn't shine, let your heart become aflame with your love. If you cannot climb to the top of the tree, maybe you are meant to admire the roots. Perfect, perfect, perfect is not who I am and not what I want to be defined by. The sunset I admire every night may display perfection, but when they are clouded over, you see nothing.

But yet, they still shine on the inside. I am much like the tree that stands alone, yet accompanied by millions of leaves. Although they leave me every winter, the snow blankets me in comfort. My hair flows like the tree's branches that battle the wind.

I will stand tall and strong like the trees. I can be as gentle as the smallest branch, delicate to the touch. As I watch the trees from inside my house, I feel sad, angry, and upset for different reasons entirely. But just watching the trees that stand alone I my yard, battling the seasons, makes me feel glad to be who I am. I am happy where I am and what I will become.
Sixth Grade: Shea Bellezza

Just Like My Tree

In the past year, I have changed and grown just like the beautiful sugar maple in my backyard. As the tree has grown leaves and made it through the snow, I have been doing the same. This year is the last year of my two years on the Shelburne Community School's Green team. I have changed, grown, and learned so much in my years on the Green team. I have connected with peers and learned lots from my amazing teachers. When I think about how much I've grown, I think about how my favorite tree has grown. As I branch out and try new things, my favorite sugar maple is doing the same. While I mark my growth in years, the tree marks its growth in seasons. In the spring, the tree is very active and full of energy, and busy producing syrup. In the summer, the leaves are a bright vibrant green because of the chlorophyll that is busy absorbing the sun's energy. In the fall, the leaves change color into what looks like a beautiful sunset and finally drop to the ground. Lastly, in the winter the tree stays dormant. It sits and waits until the spring when it can start to blossom again. That is my favorite part of my tree, its growth. I know that whenever I'm changing and growing, my tree is with me doing the same. My years on the Green team have been amazing and filled with change, just like my tree.
Seventh Grade: Miles Lawrence

The Porcupine Tree

There's a big tree in our woods behind our house. A porcupine lives in it. There's so much porcupine poop at the base of the tree that it fills up the whole hollowed out bottom of it. Half of the tree is fallen over and that part is completely hollow. It is about a twenty foot long tunnel. Our dogs and cats like to go in it and when they do, we cant see them because it is so dark and we don't want to go in there. One time we had some friends over and they climbed into the tree and pretended the porcupine was in it. We all started screaming. It was really funny, after we figure out he was joking.

The porcupine tree is also right next to someone's old dump site. We have found a bunch of cool stuff right near the tree. Once we found an old bible. For me, the porcupine tree is a place of adventure and excitement. It is a good place to go with friends or even alone.
Eigth Grade: Carly Stone

Maple Syrup

My great grandparents had a sugar house and made maple syrup every year. I love maple syrup. I put it on lots of different foods, like pancakes and waffles or maple sugar on muffins that my grandmother makes. But I'm not as much of a fan of maple syrup as my mom and sister. Making maple syrup can be a difficult process and takes a long time. You must boil all the water out of the sap, then it thickens, and then it is ready to be jarred. It can take days to complete this process.

As you probably know, maple syrup comes from maple trees. In Vermont, maple syrup is a huge industry so it effects many people here because it makes so many different products. You can make maple candy, syrup, cotton candy, ice cream, and barbeque sauce. In short, I created a maple tree to represent Vermont, the place I have growing up in and love.