Big trees are fascinating! Besides spurring our imagination and interest, the goals of the Vermont Big Tree Program are to increase public awareness of the ecosystem services provided by big trees and cultivate interest in protecting them for the future.
The Vermont Big Tree List is a searchable and sortable map, hosted by the Vermont Department of Forest, Parks and Recreation.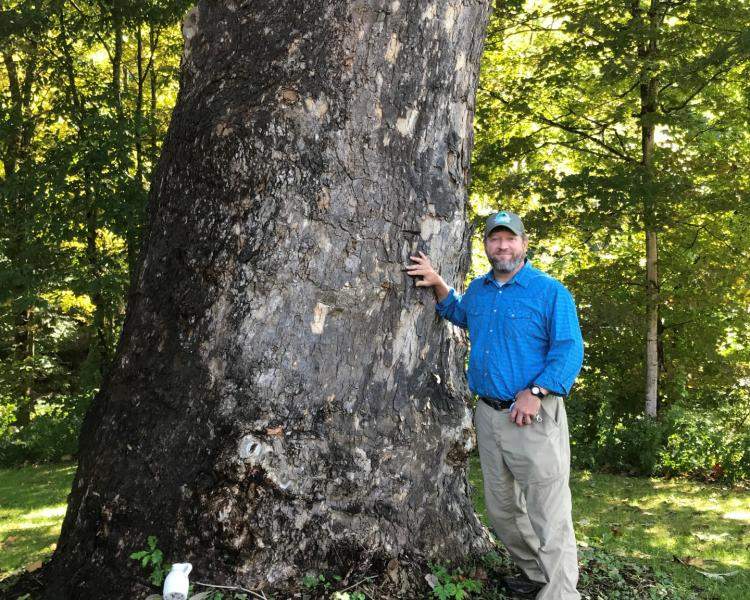 Vermont Big Tree List
The Vermont Big Tree List is a searchable and sortable map. Check it out to view photos and see the latest measurements on nearly 80 Vermont Big Trees.
---
Nominations and Measurements
Trees can be nominated by any tree enthusiast and will subsequently be confirmed by staff. Big tree nominations are accepted year round. Staff will contact landowners and conduct site visits. If you would like to nominate a tree that is not located on your property, please get permission first.
Big Tree Points Formula

Circumference (inches) + Height (feet) + 1/4 Avg. Crown Spread (feet) = Total Points
The Vermont Big Tree Program uses American Forests' formula to determine whether a tree is a champion. There are three measurements that are taken into consideration:
Circumference in inches, taken 4.5 feet above the ground (unless root swell, low branches, or multiple stems require adjustment);
Height in feet, from the ground to the highest branch; and
Crown spread, averaged from the longest and shortest points across the tree's canopy.
Check out the measuring guidelines and vacant species list below. For further guidance, view the Measuring Guidelines Handbook from American Forests.