Vermont's urban and community forests are an integral part of community life and well-being. Our regular programs encompass educational, technical, and financial assistance to support urban and community forestry statewide. We recognize tree champions through our awards programs and celebrate trees and forests on Vermont's Arbor Day, the first Friday in May.
What are Urban and Community Forests in Vermont?
Urban and community forests comprise the trees and associated ecosystems in and around human settlements, specifically those along streets and in town-owned forests, transportation and infrastructure corridors, parks, village greens, school yards, cemeteries, and  private yards.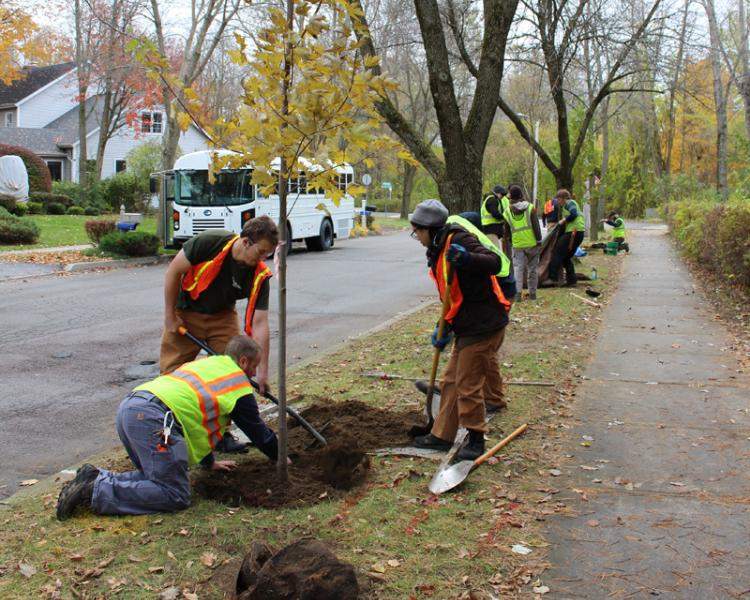 Mission
To lead community members, businesses, and governments in understanding the value of urban and community forests and to promote public responsibility for, and participation in, the stewardship of these resources for this and future generations.
Program History
Funded primarily through the USDA Forest Service, the UCF Program is designed to help communities plan, plant, and care for their community trees. Since its inception in 1991, VT UCF has provided technical, educational, and financial assistance to over 175 Vermont communities and more than $1,000,000 in competitive grants have been awarded to Vermont municipalities and volunteer organizations. The Program's staff is supported by a twenty member council, numerous partners, and seasonal interns and adheres to the tenets outlined in the UCF Working Agreement and guiding princples towards justice, equity, diversity, and inclusion.