Overall Themes
Proactive planning among diverse stakeholders
Increasing access
Hardwick's Town Forest Recreation PlAn
---
Summary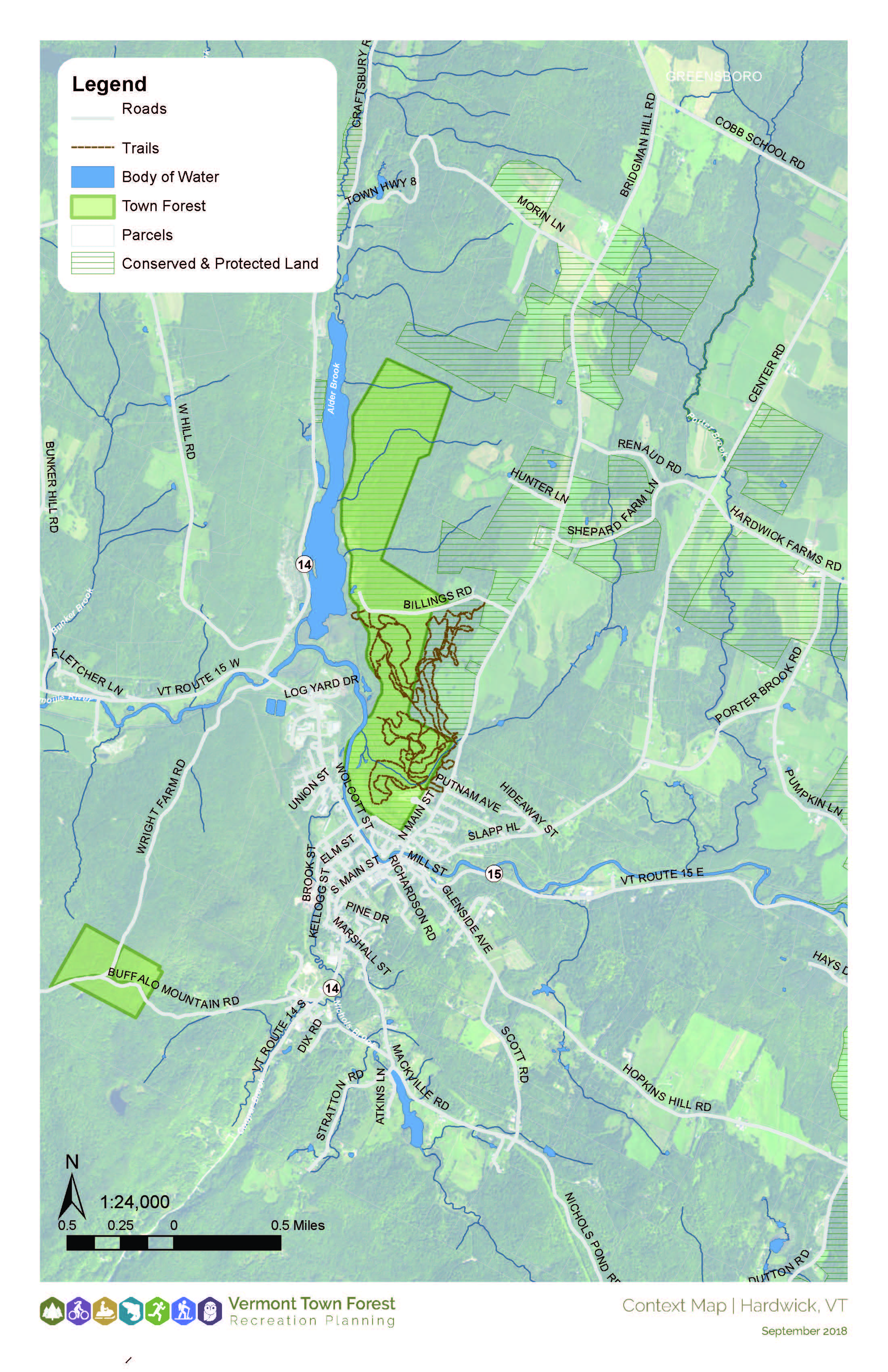 Hardwick, population 2,949, has two town forest properties. One has a long history as an outdoor classroom and experimental learning laboratory for high school students but is now experiencing growing local interest in its recreation offering creating challenges. Conversely, just down the road, a newly acquired forest block is experiencing limited use. Hardwick hopes to define a vision and develop policies and investments that are appropriate and sustainable for each parcel.
Background

Hardwick considered two properties, Hardwick Trails, and Buffalo Mountain in the planning process. Hardwick Trails is behind Hazen Union School and is comprised of multiple parcels each owned by the school district or one of various town departments. It's actively used by several schools, including Hazen Union School and the Green Mountain Technology and Career Center Forestry Program (they practice logging, maintain a sugar bush, and help with forest maintenance), and by the greater Hardwick community. A 9.6 mile multi-use trail network, maintained by the Hardwick Trails Committee and other volunteers, is popular for skiing, hiking, snowshoeing and mountain biking. Trails are groomed in the winter, and cross-country ski and shoe shoeing equipment are available for the community in a cabin at the entrance to the trails. Some natural resource inventories have been conducted on the school-owned parcel; there have been no plans or inventories done on the town-owned parcel.
Buffalo Mountain is a 70-acre parcel owned by the town. It is remote, undeveloped, and underutilized, accessed primarily by snowmobilers and ATV riders via a trail on one side of the parcel or a class 4 road on the other. Some forest management has occurred, but no other plans or natural resource inventories have been completed on the parcel.
Strategies to Implement Vision
As a result of the planning process, the town generated a robust action plan matrix. Action steps include:
Words of Wisdom
"The best results will come from patient and thorough canvassing of the community's wants and needs," says Eric Remick, Chair of the Select Board, when asked if he has any advice to share on the process. "It's not always exciting, but the results are important so be sure to spend the necessary time on the community survey and the needs assessment portions of the process."