November 10, 2022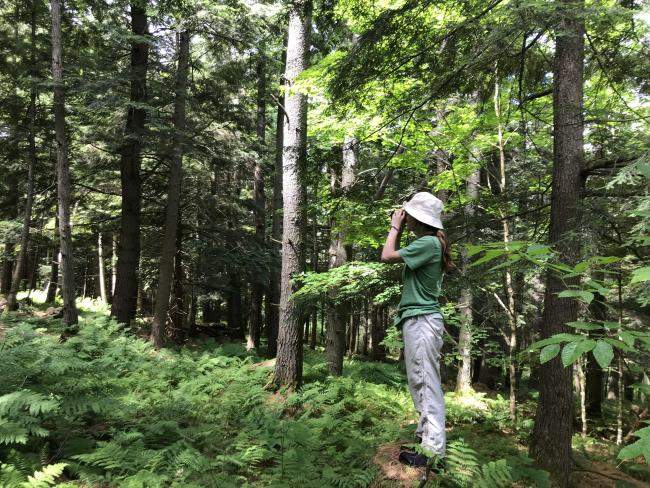 Julia D'Alessio served as UCF's summer intern for 12 weeks this summer.  Julia is a rising senior within UVM's Rubenstein School of Environment & Natural Resources.  She writes about her experience with the program and learning about urban and community forestry in Vermont below.  
Urban and community forestry is all about the connection between people and trees. This summer, I had the opportunity to see that connection firsthand in different parts of Vermont. I traveled with Gwen Kozlowski, the program's outreach & education coordinator, as we updated vacant species on the Vermont Big Tree List. In Wolcott, I saw the connection in Bess's eyes, a Vermont resident since 1950. She told us stories about her five kids and how she and her husband started a snack bar in town during the 60s. The four cottonwoods that towered above us in Bess's yard had been with her family through it all; they had grown together through the years and are deeply intertwined with her relationship to home. I saw a similar love in many residents, one who described her giant bur oak as a "third child."
I also participated in updating Vermont's public tree inventory tool for a project known as Resilient Urban Forests for All (RUFA). With Joanne Garton, the program's technical assistance coordinator, we traveled to Windsor and Lyndon and assessed trees' health in public rights of way. We also recommended different spots for planting new trees, as Windsor and Lyndon are receiving grants and program assistance to increase tree canopy cover in town. As I met residents on the streets and in parks, I saw a familiar glint form in their eyes as I explained why I was conducting inventory- to help the town manage their public trees. Joanne and I were lucky to work with dedicated volunteers with a vision for their communities and found that libraries are great spaces to join forces for hosting training events. 
While there can be so much to disagree about globally, nationally, and in local politics and planning, most people can see the benefits of having trees in communities. Trees provide shade and cooling effects, recreational opportunities, carbon sequestration, and stormwater retention. They attract wildlife, promote biodiversity, and filter air pollutants (not to mention their beauty and soul-touching powers). I loved that I could wake up in the morning for my internship and see another set of eyes light up over connections made about trees. I started seeing this spark outside of my internship- in family gatherings and with friends. Keeping this spark alive is important as we move forward with a changing climate and into zones of environmental uncertainty.
During the drives through the state and check-ins with my team, I asked them different questions about urban and community forestry and learned a lot from their years of experience. I wanted a way to share these conversations with others and to share a message- that people care about trees. With this in mind, I was fortunate to film interviews with my team members- Gwen, Joanne, Elise, Kate, and Ginger. I asked them- what is the biggest challenge for local forestry management in Vermont?
After conducting the series of interviews, we found that maintenance can be challenging for municipalities that lack the capacity to care for their trees. Without proper funding and staff, trees can be left unwatered and unpruned throughout their life cycle. There can be a lot of excitement about the beginning of a tree's life when it first goes into the ground, but excitement over the middle and end of life can be a different story depending on capacity. We also discussed the different scenarios where residents may not want trees. Maybe they've seen a tree fall on their street or home; perhaps they've seen trees planted only to die without proper maintenance.
 While many people can understand the benefits of trees, we must also know that they require a reciprocal relationship in which there is mutual benefit and care. Trees need eyes on the street- people who can conduct risk assessments and prune dead branches that may fall and pose a risk to public safety. Trees require watering (lots of watering!) throughout the first couple of years of their life. Only four out of 252 municipalities in Vermont have paid city arborists, leaving a lot of public tree care up to volunteers. Our program helps volunteers do what they can't do alone, with technical and financial resources like grants for planting trees and gator bags for watering. 
Throughout my time with UCF, I saw a familiar spark in the eyes of residents all over Vermont as we connected about trees. However, no two people or conversations were the same; each town we visited had its differences, just as there are differences among neighborhoods, streets, parks, and homes. While Burlington's arborist program is robust with numerous staff, and their capacity for proper tree care and maintenance is solid, other towns in Vermont face a different situation. To ensure equitable access to trees for everyone in Vermont, we must first see towns, streets, and residents as they are. This takes presence; it takes listening to people who want to talk to you in the streets while remaining safe and aware; it means being open to hearing excitement about trees or complaints about local politics. Most importantly, it takes a willingness to show up, to be boots on the ground for places that may not have any, to be present with each tree during inventory, and to be present with each person you meet.