August 4, 2022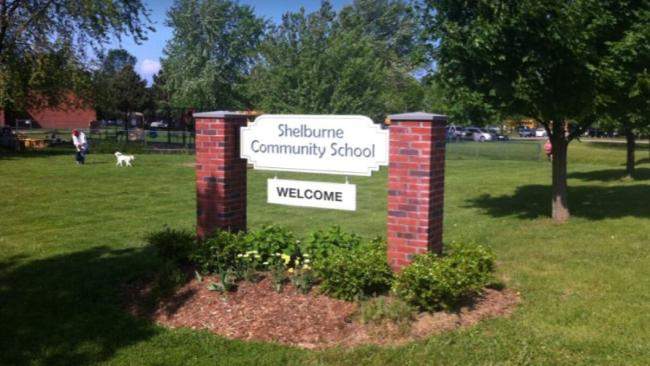 Background Information
The Tree Campus K-12 program is administered by the Arbor Day Foundation and recognizes schools that meet four requirements for tree education and stewardship. Shelburne Community School (SCS) applied to be designated as a Tree Campus during the 2021-2022 school year and, if approved, will be the first K-12 in Vermont to receive the recognition. Learn more about the program!
How did they get started?
Lucy Allen, a 7th and 8th-grade science teacher, first came across the program while researching material for remote learning during the 2020-2021 school year. She spent some time reading Vermont's resources on ecology and the Next Generation Science Standards (NGSS). After connecting with Joanne from VT UCF and deciding to begin the application process, students could choose the K-12 project as an elective. In 2022, the elective became a tree club that meets weekly during lunch and recess. At first, the project started small with four students involved and has since expanded as new members joined.
What did this group do for the education plan requirement?
Shelburne Community School has 32 ash trees on campus. The tree group researched emerald ash borer (EAB) management plans in surrounding towns to prepare for EAB. They found that these plans have a similar structure and created a general outline of what to include in an EAB plan. With their outlines, students made EAB plans for SCS.
How do they receive hands-on experience?
The group mapped and measured each ash tree on school grounds to create an EAB plan. They took the circumference of each tree and calculated the diameter. With this data, the group made EAB plans that include: background information on EAB, ash tree identification guidance, locations and measurements of each tree, instructions for spreading awareness, and recommendations for different types of replacement trees. Students expressed that they enjoy learning outside and that it helps them feel peaceful and connected.
What did this group do for Arbor Day?
To celebrate Arbor Day, the tree club created a scavenger hunt in which all grade levels could participate. They made kits of notecards with different facts about EAB and kept them in the teacher's lounge. Teachers could opt-in by taking a kit from the lounge and could hold the scavenger hunt inside or outside. Lucy expresses that accessibility was a critical success factor for their Arbor Day activity. As SCS is a big K-12 school, the option to opt-in allowed different classes to benefit from the scavenger hunt if they were able to. The tree group wanted the kits to be enjoyable for all grade levels, whether a participant was an eighth grader or a kindergartner.
What advice does the group have for other interested schools?
To apply to become a Tree Campus K-12, Lucy recommended connecting with a VT UCF team member and expressed that having an expert to speak with "made it so much more real for us." Students recommend remembering to track hours (an estimate is required) and to take pictures for the application.
What can other schools in Vermont learn from Shelburne Community School?
Other schools in Vermont will also have to plan for EAB in the coming years. The tree group shows us that students benefit from being involved in creating plans. Other schools may find that one tree group can inspire shared learning throughout different grade levels and school and community spaces.
How does the Tree Campus K-12 program empower students?
Connecting students to trees on campus allows them to take action within their school communities. Through the application process, students can benefit from hands-on experiential learning and the opportunity to create an impact on their school. The tree group said they were happy to go to high school, knowing they had done something to help SCS. Award recognition may help inspire other schools who hear about Tree Campus K-12.
This case study was developed by our UCF summer intern, Julia D'Alessio.