Makayla Marinace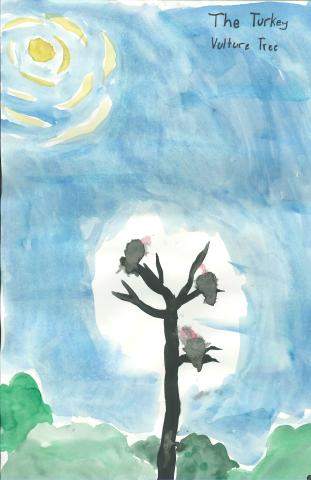 School:
Waterville Elementary
The Turkey Vulture Tree
There is this tree in my backyard. It is dead. The branches are as bare as a peeled banana. Dark, almost black even, as if someone took a match and set it aflame. I have like that tree very much ever since the turkey vultures visit on that hot summer day.
When I was little, mom and I were at home together alone. Dad was at work and Lila was a friend's house. I was on the couch watching television and mom was in the kitchen cleaning. I was enjoying myself for the moment while the house was quiet.
Later that day, mom told me to come over to the window. I walked over next to her and we looked out the window to the big dead tree. On the big thick branches perched five large vultures. Their feathers were black as night and their wrinkly bald heads drooped as if they were sleeping. Their wings were spread out as if they were about to take off.
Mom said they were probably just sunning themselves. We stood there watching them for what seemed like forever! Finally mom, went back to doing what she was doing before and I sat back down on the couch. I glanced out the window every now and then to look at the big vultures sitting in the big dead tree. Today I still look out at that tree just to check if the turkey vultures are sitting out there sunning their huge black feathers. That is the most interesting tree I can see from my house. I hope it stays there forever.