Lydia Beaulieu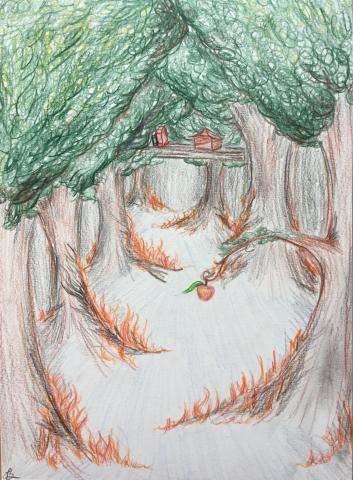 School:
Mater Christi School
What we can't see, we never quite acknowledge nor do we understand. A superhero, a rarity among the average human, has a wide array of power- the most important being the prominence of kindness and devotion to another. This being a given, there must be superheroes that grace our daily lives without a second glance or wavering thought. There must be something that fuels our inflating lungs, that sacrifices itself in an attempt to warm our shivering bodies in the cold winter months, as well as allowing one to find solace and shade from the scorching sun when the warmer air finally arrives, there just has to be. We wouldn't be alive without these organisms. We would know how to be.
I firmly believe that it is time to pay homage to the trees in the forest, the ones on inclined river banks, the one that withstands the tropical air, and most importantly, the ones that have rooted right outside the window pane.  For the tree that have burned in the forest fires in California and for the ones that are still burning, your gracious talent of offering shelter to young critters and rodents have been much appreciated. For the trees all around the globe that hold steadfast onto unhatched bird eggs, your devotion is not overlooked.
In my poster I chose to depict a scene of a grove of trees burning at the roots. The roots are what carry the water and establishes stability and balance within the body. As a result, the fire completely blocks this vital flow. In a similar way, humans block the trees' flow by taking without offering anything in return. Moreover, the gifts that the trees give relentlessly are endless; from books to food to air, to homes, to the simplest smile. They give until they dies. It is of the utmost importance to find gratitude for things that are never thought of for that they are the ones who deserve the highest praise.