Cassandra Johnson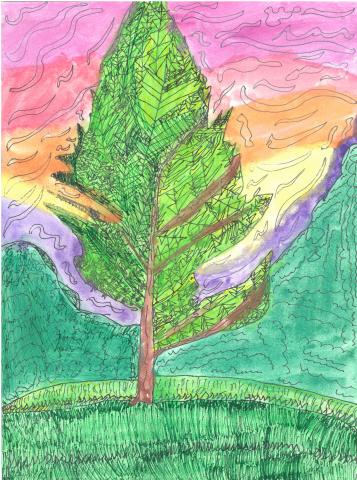 "My Favorite Tree"
My gorgeous tree is located in the back of my house on my lawn, so every morning when I wake up, I see its beautiful smile. It makes me feel like the tree is trying to keep my happy. It is almost as if it was meant to be there and I was meant to find it. In the daytime, with the sun shining through it, it is a stained glass window. And at night in the moonlight it is a soothing shadowy protector. It is surrounded by our lawn where my sibling and I love to play and be free under the shelter of the tree. Right now it's almost autumn. The road next to my house has trees on the other side and these are almost completely bare, with a few last specks of beautiful red and orange leaves holding on. My tree on the other hand, is still lushly green and will be so through the entire winter. When I first moved in, it was winter. The sparkly, fluffy, white angelic snow was building on top of my giant tree. It has a million branches shooting out from its roughly textured side to catch the snow. Mine is a mighty, statuesque pine tree.
The tree reminds me of a magic memory I recently experience with my step family. I went sledding outside by that exact same tree in the cold glacial air. It was around 10pm. The icy, cold snow and the tree blended perfectly and brought back my Christmas spirit and joy which was gone after our family dog passed away from cancer, ten days before. I never felt more alive and free. I was outside with my step-sister- Mada, my two biological sisters- Corie and Macayla, my step-brother- Merritt, and my step-father- Eric. We were riding cold, snowy sleds underneath the stars. The snow tasted sweet and cold like ice cream. The snow was fluffy and my tree looked like an ice castle in the rough. When I brushed by the needles, they stabbed me, making my skin tingle but not hurt. The tree had astonishing Christmas lights wrapped around it, giving light to the stained glass window effect. It smelled like sappy warm herbal tea and the snow smelled like a frosty snow cone. The scene was a dazzling dancing memory creator in the black abyss of the night.
This tree makes me feel joy, passion, strong, truthful, and beautiful inside and out. It makes me feel like there is actually something to live for. My tree improves my life for the better because I see the true beauty in nature. It helps me understand life has its ups and downs and that I'm a warrior and will make it out alive. I make special visits to this tree, so I don't feel so broken and lost. It helps me when I feel depressed. It's my best friend and towers over my house like a Greek guardian god sent from heaven. The tree stands out as a brilliant mind reader in the light blue sky, and like a mysterious black figure in the starry night.